Keep your audiences engaged with custom neon signs.

Personalize your channel with custom neon signs

Create a brand, and be recognizable.
Why Zen Neon outshines the competition
With 25 awesome fonts and 12 bold colors to choose from, we take your vision and turn it into reality. Our Custom Neon Sign is perfect for brightening up your youtube studio, your home, and your day.
No-nonsense installation
Our handy wall mounting kit takes the hassle out of revamping your business or home.
Just hang your sign like a picture frame and use the 12V power adaptor to light it up. No costly carpenters or electricians are needed: you've got this.
Free and fast delivery...
We deliver your sign within 10 days using top couriers DHL and FedEx. Zen Neon is one of the fastest in the game because we value your time. Besides, who wants to be waiting months for a package as cool as this, anyways?
…with a 100% On-time Guarantee!
We're so confident in our shipping, we'll even make you a deal. Let us know your event date when you buy, and in the unlikely event the sign arrives later than agreed, we'll give you your money back. Plus - you get to keep the neon!
Think our price can be beaten? Think again.
We believe we have the best value neon signs on the market, and 1000s of our happy customers agree. If you've got a quote for a cheaper price - let us know and we'll match it.
Not only do we care for our customers, we care for the planet.
We use the latest LED flex to create your custom neon sign. It's more durable than its glass alternative and doesn't overheat.
And, as our products are powered by a tiny 12V adaptor, we're about as Eco Friendly as you can get.
Don't stress with our extended warranty
We've got your back with a 12-month manufacturer warranty. We will send you a new neon sign for free.
Join the club of 100,000 happy clients
We've made over 100,000 custom neon signs, for all kinds of businesses - from Youtube Influencers to investment banks; from wedding planners to barber shops.
And even big companies like Amazon and Dell are buying from us again and again.
Note: If you want your text to occupy 2 or 3 lines, please email us at support@zenneon.com, we will send you the price and mockup in 1-2 business days.
BACKING STYLES:
LED Neon sign 

Connection
Recommended Sizes
Refer to the general size guide below to help with your order. Remember, this is only a rough guide and if you need more help please contact our team at support@zenneon.com, who will be happy to help!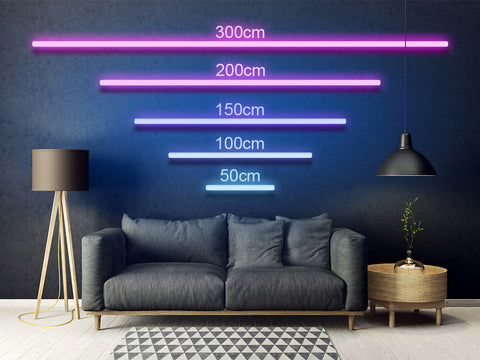 FAQ
When will my order arrive?
We get it, you've just designed a stellar sign and want to see it on your doorstep ASAP, but our custom neon signs are handmade with a huge attention to detail, so they are delivered within 15 working days.
If you need a sign shipped sooner than this, you can place a rush order with us by choosing "express delivery" at the checkout. Rush orders will take 7-10 business days to arrive.
How do I create my custom sign?
If you're looking for a text-based sign, you're in the right place. Just head to the top of this page and start choosing your font, text and color.
You can even choose the size and shape of the backboard here. The price will adjust accordingly. Simple!
What if I have something more complicated in mind?
Don't worry, we're not just a one trick pony. If you want a neon sign for your business' logo, or just a graphic design, head to "upload your own design" and fill out the form. We'll get back to you within 24 hours and help you turn your vision into reality.
You can also contact us at support@ZenNeon.com
I've got my sign, great! Now… How do I put it up?
Your sign can be mounted on the wall using the screws provided in the handy installation kit. If you want to hang your sign instead, just let us know and we'll send a hanging kit with your order.
How long is the power cord?
From sign to power adaptor, there is 10ft of wire to work with. There's an additional 3ft from the adaptor to your plug. So, if we do the math, the cord is 13ft long from your sign to the power supply.
Can I use my sign outdoors?
Our standard Custom Neon Signs are not safe to use outdoors. But we do produce waterproof versions. Just select the option when you're designing your sign (at the top of this page).
I've contacted you for a quote, when will you get back to me?
First things first - thanks for your inquiry! You will receive a quote alongside a mockup of your design in 1-2 business days. Remember to check your junk/spam folders!
I want a bigger neon sign, how will it be shipped?
Sometimes, signs that are on the larger side need to be cut into 2 pieces for shipping. This doesn't affect the appearance of your sign, but we will contact you for confirmation before we make the cut.
This all sounds good, but are ZenNeon signs safe?
Our signs are made from LED flex, which means they're unbreakable, and don't overheat. No glass is used in our products, so they are completely safe to use, even around children.